Frequently Asked Questions
Q1.

What kind of packaging materials do you have?

A1.

We offer NeoSoilon (Non GMO PLA mesh), Nylon mesh, Non-woven fabric and other types of materials.


Packing Material.com "Teabag Filters"

The shape of the tags are not only limited to just squares, but can be circles and other special shapes as well.

Q2.

Is it possible to make commercial products with sustainable packaging materials?

A2.

Yes. We have a lineup of compostable materials for both inner packaging (teabags, coffee bags) and outer packaging (outer envelopes, pouches, etc). We can recommend packaging materials that match the raw materials (tea, coffee, etc) to be packed.

Q3.

What kind of packaging machine can use NeoSoilon, a non-GMO material?

A3.

Automatic teabag packaging machines that use ultrasonic sealing and cutting such as FUSO machines can use NeoSoilon.

Q4.

Do you have packaging materials that work with heat sealing?

A4.

Yes. Please contact us for information on our packaging materials that can be used with heat sealing.

Q5.

What are the benefits of using a FUSO packaging machine?

A5.

There are a number of customers that have been using FUSO machines for more than 10 years. The machines can work with various raw materials and packaging materials, and production can be done in small lots with a wide variety. With our overall technical support based on our vast experience, you can use FUSO machines with confidence.

Q6.

What kind of packaging can FUSO packaging machines be used for?

A6.

We have a lineup of machines that can handle various packaging types with one unit, including pyramid teabags, drip coffee bags, and VFFS (vertical form fill seal) type bags.

Q7.

I want to automate my production line, but can you help with that?

A7.

Yes. Starting from a dedicated design for the downstream equipment following the teabag packaging machine, we can propose and give assistance according to the customer's request.

Q8.

What kind of raw material is supported for packaging?

A8.

We already have a track record in tea and coffee in many regions including the US and North America. Please consult with us about using other raw materials. We'll propose the most suitable packaging machine and packaging material for your project.

Q9.

What kind of tea materials can be packaged?

A9.

FUSO machines are designed with the utmost utility in the tea material packaging field, and they can pack a wide range of tea materials such as various blends, herbal teas, and fruit teas. Send us your raw materials and we'll perform a packaging test!

Q10.

Please tell me how to handle Japanese tea.

A10.

Please contact us about Japanese tea and the tea ingredients in the samples given out at the expo.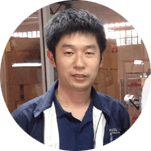 Yusuke Noda
North America Area Manager